"and dave erwin," he says, with a voice like a gong struck in an empty subway tunnel, "is really into pre-crowned ribs.
laminated
pre-crowned ribs."
"
whoa
," murmurs my mentor. his hand rises to meet his chin; this means he has become suddenly very intrigued.
there is a lovely pause.
we're talking about the pieces of wood that are glued to the underside of a piano's soundboard. the job of the rib is to maintain the curve of the soundboard so that the tone can be projected properly, even though the wood itself will probably dry and flatten out over time. the old method (ms paint diagram 1) is to glue straight ribs onto a straight soundboard and force both into a caule to fit the desired curve; the new method (ms paint diagram 2) involves gluing pre-curved ribs onto a straight soundboard.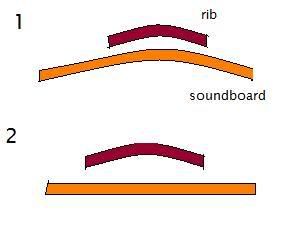 its actually supremely cool because the extra dynamic tension in #2 between the rib and the soundboard-that-doesn't-want-to-be-curved actually provides a much bigger, dynamic sound. in a certain sense, it is like a strung bow.
this is the meeting of the redwood chapter of the piano technicians guild, and its reliably a riot because all of the present characters are undeniable dweebs. including me. the president, god bless 'im, is wearing a shirt to which no crude paint diagram by a mortal could ever do justice. (nevertheless, we try.)
he runs the meeting with pomp and puns, like some strange and increasingly hilarious herbivore dinosaur. on the docket: the presentation of classes that some of the members took at the National Convention, break for coffee and donuts (and yoga stretches, for one member), technical roundtable, aspiring apprentice report, and what the hell do we do for bill swackhammer who just upped and retired. this last point has been a key issue for at least the last two months.
"anything? any ideas? i'm desperate, here," the president says. "emily, you're creative; tell me to crochet a pillowcase and i'll do it."
"give him a small porcelain frog," i suggest facetiously.
"a small porcelain frog." my mentor laughs. "you could ask his wife."
"ask his wife!" exclaims the president, lively as his shirt. "ask his wife! that's perfect!"
i am the youngest in the room by at least thirty years, and the only female. after a year and a half of informal study under the university's staff tech, i'm finally comfortable arguing with these men. i love this stuff, and for a while, i wanted to make a career out of it. these days, however, it has taken a back seat while i'm distracted by trying to be a pianist. i suspect it'll be something i'll come back to a little later in life, when many people usually start working with it. this doesn't mean, however, that i'm not seriously considering buying that piece-o-shit hamilton upright to fix up and resell. oho, temptations.